Seeds of Deception and Hidden Terrors

Volume 2: Seeds of Deception and Hidden Terrors
Video Information
Media
Video Home System VHS
Average Retail price
19.99
Running Time
46 minutes
Released in 1993, Seeds of deception and Hidden Terrors was the second volume in the ExoSquad series. The cassette was sold in the cheaper packaging of a simple printed cardboard sleeve. The Following information was printed on the back of the sleeve: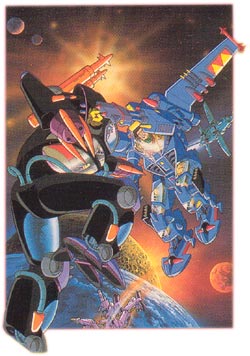 The year is 2119. on the "home worlds" of Earth, Venus and mars, Genetically engineered super-beings called Neosapians have revolted, enslaving thier human creators. Now, only the daring resistance fighters of EXOSQUAD and their awsome, robotic arsenal can save the solar system from the Neosapien reign of terror!
Near Saturn's moon Encaladus, J.T. Marsh and his EXOSQUAD team fight a raging battle with the Tethsyian Pirates-where they encounter a deadly trap! Meanwhile, on Earth, the scheming Neosapien leader Phaeton unleashes an overwhelming surprise attack, forcing the EXOSQUAD to rocket back to Earth and mount a defense against the Neosapien Blitzkrieg!