Unidentified ExoCarrier

An unidentified ExoCarrier in Earth orbit
Vital statistics
Fleet Position
Capital ship
Ship Class
ExoCarrier
Faction
ExoFleet
Known Captains
None
This ExoCarrier was present in an orbital staging area used for the assembly of elements of the ExoFleet prior to the campaign against the Pirate Clans in 2119. A ship of this type was destroyed by ground-based weapons at Enceladus.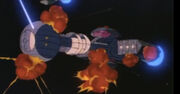 This ExoCarrier appears to share the design of the vessel seen at Venus. No ship of this type was seen in either of Matthew Marcus's attacks on Earth.
Ad blocker interference detected!
Wikia is a free-to-use site that makes money from advertising. We have a modified experience for viewers using ad blockers

Wikia is not accessible if you've made further modifications. Remove the custom ad blocker rule(s) and the page will load as expected.