TB-024 Exo-fleet Recon E-frame

TB-024 in standard color Scheme
Dimensions
Height
Width
Wingspan
Profile
Standard Armaments
Armaments
Known Pilots
Pilots
Nara Burns
Less durable and smaller compared with most E-frames, the TB-024 Recon has often been considered an oversized Jumptroop armor suit. Lt. Nara Burns operated a TB-024, but more often served as weapons officer on Marsala's RA-678.
Weapons Systems are: Armor Drilling Torpedo Cannon (right arm), Silent Twin Wing Turbo Missiles and a Powered Gripping Claw (left arm).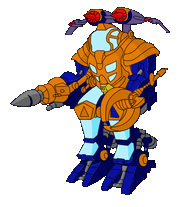 Ad blocker interference detected!
Wikia is a free-to-use site that makes money from advertising. We have a modified experience for viewers using ad blockers

Wikia is not accessible if you've made further modifications. Remove the custom ad blocker rule(s) and the page will load as expected.