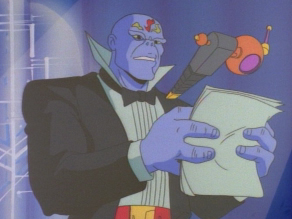 Following the Neosapian conquest of Earth, Shiva attempted to pacify the Terrans by keeping several Human shows on the air. One of these was the Amanda Conners Show with the announcing done by the Neosapian Stentor. Following the termination of the Amanda Conners show, Stentor was not seen again.
His name is based on Stentor, the Greek herald whose loud voice was heard in the Trojan War according to the poet Homer.
Ad blocker interference detected!
Wikia is a free-to-use site that makes money from advertising. We have a modified experience for viewers using ad blockers

Wikia is not accessible if you've made further modifications. Remove the custom ad blocker rule(s) and the page will load as expected.