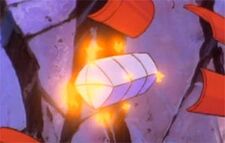 Developed by
Professor Algernon
midway through the war, the Multiple Warhead Plasma Grenade allowed an
E-frame
pilot to shower a given area with dozens of warheads, each one of which is capable of destroying an
E-frame
.
At first appearing as a single grenade when launched, the weapon sheds its outer casing in midflight to expose several dozen warheads contained within. These warheads are then blown away from the main body of the grenade and shower an area in incendiary charges.
Wolf Bronski used the grenade on several occasions to wipe out entire squads of Neosapian E-frames. This tactic proved to be particularly effective when in the confined spaces of underground sewer and tunnels such as those found on Venus.
Ad blocker interference detected!
Wikia is a free-to-use site that makes money from advertising. We have a modified experience for viewers using ad blockers

Wikia is not accessible if you've made further modifications. Remove the custom ad blocker rule(s) and the page will load as expected.