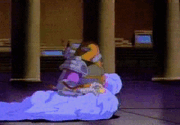 A degenerative condition that afflicts Neosapiens. The Condition cause a Neosapiens' cell structure to gradually degrade until such time that the body simply liquefies into a mound of chemicals. The conditions forms due to the engineered nature of the Neosapien DNA. Neosapien genes are inherently unstable and thus have greater difficulty in repairing themselves the way Terran genes do. Injury is the most common cause of Auto-mutation Syndrome, however it can affect any Neosapien at any time.
Phaeton contracted Auto-mutation syndrome following his disfigurement at the destruction of Olympus Mons. His condition continued to worsen through out the later part of the war until the very end when he was killed by Lieutenant Nara Burns.
Ad blocker interference detected!
Wikia is a free-to-use site that makes money from advertising. We have a modified experience for viewers using ad blockers

Wikia is not accessible if you've made further modifications. Remove the custom ad blocker rule(s) and the page will load as expected.